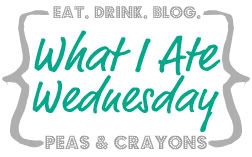 Holla! It's Wednesday! That means I have one more work day until a 3 day weekend. This gal needs it. I had a good eating day today. Dinner was not the healthiest but it was darn delicious. Let's break it down, shall we?
Oh hey look at that, I had Chobani and Kashi Go Lean Crunch for breakfast. You'd think I'd get tired of it, but no sir. I had Pomegranate today. I really love this flavor but there's a slight puke smell to it. Somehow, I'm able to overlook that. Maybe it's just me. For lunch I had leftover roasted veggies and a quinoa and brown rice mix. Um, yum. I'm pretty sure I could eat these roasted veggies every day. Please roast some veggies for yourself. You're welcome.
I guess it was a pomegranate type of day. These things are delicious, however I'd like to point out that these are just real "fruit juice pieces" covered in dark chocolate. I'm not really sure what that means but I'm pretty sure it doesn't fall into the Clean Eating category. Oh well.
After work, I made myself a chai tea latte. This stuff is so yummy. I also had a
Kind Bar
because it just seemed like a good combo. I was right.
For dessert I had 2 cuties. Well, it was more like 1 and a half because a little girl stole a bunch of pieces. Her name is Lyla. She's pretty cute :)
And that was it! I hope you ate well today and got your sweat on too! Make sure to visit
Peas and Crayons
to see what other bloggers had going on today!
Did you eat anything especially yummy today?
Did you eat anything new today?
Those dark chocolate pomegranate bites. Yummy.