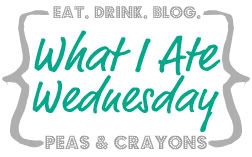 Happy WIAW, y'all! It's been an interesting day of eating for me. You'll see in just a sec. But I'm going to go ahead and tell you:
I'm sorry I'm not sorry.
I started my day with breakfast on the go. The key lime pie
Larabar
is so yummy. It has a little hint of coconut that makes you feel like you're on a vacation. I also had a banana that was turning brown which meant it was super sweet. And of course there was coffee. With almond milk.
I had a few of these guys. I normally don't like to work for my food, but I could eat pistachios all day.
Lunch was leftover cauliflower crust pizza. I really enjoyed this pizza. It was the first time I had tried the cauliflower crust and I'm so impressed with how easy, yet delicious it is! I need to work on the crispiness of the crust but believe me, this recipe will be cooked again!
An apple a day keeps the doctor away. 'Nuff said.
Oh and look at my cute Stella and Dot bracelet. It's such a great casual piece for work.
This thing was all I hoped it would be...and more.
There were 170 calories in this flavor which I personally do not think is that bad. For me, this would be a great alternative to ice cream or
my candy habit
.
Plus it's Chobani and y'all know by now that they do no wrong by me :)
Told you.
I'm sorry I'm not sorry.
Dinner was from a fast food chicken place that shall remain nameless. It was delicious.
Are we still friends??
Have you tried the Chobani Flips? Favorite flavor?
Do you ever blow a healthy day of eating with fast food?
Can you deny a biscuit and mashed potatoes?