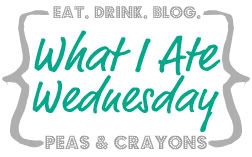 Howdy y'all! It's been a week since I've blogged and you're probably starting to wonder if this should just become a foodie blog.
JK.
I don't have a big fancy camera so it ain't gonna happen.
I'm in a blogging funk so if you have any requests on things you'd like me to blog about please feel free to leave me a comment. I love comments. Ask a question, tell a joke, whatevs.
So it's Wednesday and that means I'm linking up with
Jenn @ Peas and Crayons
to let y'all know what good eats I had today! Please go by and visit Jenn. She just found out that her ferret has cancer and she's blue.
I started my day out with this
GNC Total Lean Protein Shake
. This is the Orange Dream flavor and holy cow it's delicious. It tastes like a
Creamsicle
plus it really keeps you full. And if you're like me and you put on a few pounds during down time from an injury, this is a good thing.
I snacked on a few almonds mid day before I could find time for lunch. We were super busy at work and while I wasn't starving, I knew I needed a little pick me up. I find almonds and pistachios to be super satisfying snacks for me. There's something about the clean taste of a raw almond that I just love.
A few weeks ago there was a great deal on
Groupon
for 4 tubes of
Nuun All day Hydration
plus a water bottle. Since I love my Nuun, I jumped on that! It came in the mail yesterday so I tried it today, and I shared with my techs! I don't think they loved it like I did, but I will say that I can see how it can be an acquired taste. There are a ton of vitamins and minerals in the All Day Nuun so it has a slight vitamin-y taste. I loved it and I'm so glad I bought the package!
Finally I had time to go grab something for lunch. I mixed a half of an avocado with tuna and then slathered it on a
Nature's Own Thin Sliced Bagel
. Have you tried the thin sliced bagels? At 110 calories, it's a great substitute for regular bread, plus the whole wheat has 5 grams of filling fiber. Of course I had to eat the other half of the avocado along with an apple.
On my way home from work I stopped to see my homies. They made me an iced coffee with soy milk and sugar free cinnamon dolce, natch.
I haven't been in the cooking mood this week so we had
Mcalister's
for dinner. I had the chicken tortilla soup and the veggie club. The soup was delicious as usual but the sandwich was blah. The menu said it had avocado on it and there was not a single speck of avocado to be found on my sandwich. I guess they knew I already had an avocado today.
I'm thinking I'll have some frozen berries before I go to bed. No pictures of that but use your imagination. Imagine blueberries, blackberries, and raspberries. Frozen. Delicious.
Belle is pooped and so am I, so have a lovely night, eat right, and run fast.
Does anyone have an avocado tree?
What is your drink at Starbucks?
What do you want me to blog about?