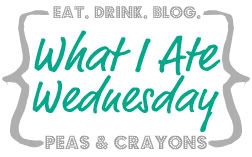 I originally thought that I would skip WIAW because of how heavy my heart has felt for Boston. I didn't know if it was too soon. But then I ate an amazing breakfast and I really wanted to share it with y'all. Also, one of my BRFs (Best Running Friend), and just a truly amazing person, told me that she loves WIAW here on MommiesRun. She gave me a pep talk:
Thank you Kristin. People do need happy, and I hope I can help spread some happiness, just like you do!
Also, our host
Jenn @ Peas and Crayons
, needs some happiness. Her beloved ferret lost his battle with cancer and she's heartbroken. Please send her some good thoughts.
Here was that inspirational breakfast. Avocado, cottage cheese, strawberries, frozen blueberries, and peppers. Kind of random, but so yummy! This is like a plate of freshness. I could eat this plate every day for the rest of my life. In fact, I might just do that.
I'm not sure if this picture is really doing much for this salad. It was spring mix with olives, cucumbers, tomatoes, tuna, and feta with a Greek vinegarette. It was amazing. The protein from the tuna helped fill me up and the feta gave it such delicious flavor.
I'm a huge
PB2
fan, so I was so excited when I saw that it was marked down at my store. I snagged a couple jars for me and also some for Kristin. If you've never had PB2, I highly recommend it! I normally sprinkle it in my steel cut oats, but it is so versatile! I had it mixed with water to dip my apple in. One of my technicians, Jessica, put it on celery and I think she's a believer now too!
I am so in love with the Chobani flips! They are such a fun little snack. They really hit the spot when you are craving something sweet. I still believe that Key Lime Pie is my favorite flavor but the vanilla was great too.
Dinner was a concoction inspired by
this recipe
. These chicken soft tacos were such an easy week night meal and I know we will have them again. I used a store bought rotisserie chicken and skipped the onion if you look at the recipe. Obviously, I put some avocado on my tacos and my black beans. I mean, how can you not?
I tried to eat a handful of chocolate chips for dessert, but Lexi, Miss-chocolate-makes-me-happy, stole them. So there ya go.
And that's it. I hope you found some food inspiration, but mostly I hope you smiled.