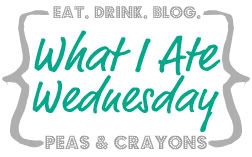 I'm just going to go ahead and say it:
Today was a great day of eats.
I don't even want to beat around the bush. I just want to dive right in and tell y'all what I ate today! But before I do that, don't forget to visit
Peas and Crayons
and say Hi!
For breakfast I had steel cut oats, sprinkled with PB2 and cinnamon, and an apple. Don't forget my coffee with almond milk thankyouverymuch. I had to take Belle to the vet for some shots so I needed to fuel up well!
So today's task for
#VegChallenge
was to make a new recipe with quinoa. Boy did I complete this task! I came up with a kind of Southwestern Quinoa Salad. Here are your ingredients as modeled by Lyla:
One cup cooked quinoa
olive oil
red and yellow peppers
avocado
black beans
corn
grape tomatoes
cilantro
lemon or lime juice
cumin
salt and pepper
1. Cook your quinoa as directed on the package.
2. Drain and rinse the corn and black beans.
3. Add diced peppers, tomatoes, and cilantro to the beans and corn.
4. Stir in the cooked quinoa.
5. Drizzle with olive oil, 2 tablespoonsful of lemon/lime juice, 1 teaspoon cumin, and salt and pepper to taste.
5. Top with avocado.
6. Chow down.
I had a cup of Grape Raspberry All day Nuun on the side. This picture is super cool looking. Just saying.
Before I ran I snacked on a banana and some pistachios. Um. It was yummy.
I'm so artsy. This is my post run dark chocolate almond milk.
I went to dinner with my two bestest friends in the whole wide world, Brooke and Deena. We didn't take any pictures but here we were back in high school:
Only 16 years ago but who's counting. They took me out for dinner because tomorrow is my birthday :-)
We had edamame and I got a vegetable roll. I'm not sure what all vegetables were in it but it tasted great.
I don't remember the name of this but it had tofu, spinach, mushrooms, noodles, and rice in it. And it was amazing. It's really strange how much of a tofu fan I am. I also had a glass of Pinot Noir because Mommy is fancy like that.
Oops. Look at that. How did I end up with Starbucks? I blame it all on Josh. He asked for it. Plus it's my birthday tomorrow so you can't judge.
Do you like tofu?
What was your favorite thing you ate today?