On Friday night I went to a get together for my Memphis
Moms Run This Town
group. My good friend Kristin hosted a CrossFit session for us at her box,
CrossFit Mechanix
. Besides getting to hang out with my mommy buddies, I was super excited to try CrossFit since I've never experienced it before. I felt like I already knew a lot about it because I follow so many bloggers that love CrossFit, like
Carrots 'N' Cake
and
Meals and Miles
.
We started out warming up with 500 meters on the rowing machine. I was a little excited at this point, thus the crazy face. Nikki is beside me laughing like she already knows how much trouble I'm in.
Next, Stephen the owner and coach, taught us several fundamental moves such as squats, push ups, ring pullups, and kettlebell thrusts (I think that's what they were called). It was all hard. I loved it.
After we were sufficiently aware of how to do those exercises, Stephen got us prepared for our workout which was a MetCon for time (metabolic conditioning, and excuse me if I'm not using the lingo correctly):
Run 400 m
15-12-9 squats, pushups, ring pull ups
Run 400 m
I had already run 3 miles with negative splits that morning so running was not as easy as I had hoped. I was super proud of my buddy Jennifer for pushing her pace to keep up with me!
The plate was a 10 pound plate, used to help keep our balance for squats. Um, I just thought of it as extra weight to burn my legs.
Push ups are hard y'all. This is a fact I was already aware of, but when you're doing all these other exercises and then getting down for pushups...yikes. I pushed myself though and I'm super proud of how hard I worked on them.
By the time I ran the last 400 meters, I was spent. My legs were complete jello. They felt more tired than they do at the end of a half marathon!
So I finished my first CrossFit workout in 14:04. I absolutely loved it. I felt so worked.
After we were all done, Stephen talked to us about nutrition, specifically
Paleo
. My thought on the lifestyle is that it is completely doable and very healthy. However, I rely on legumes a lot as a protein source because I don't eat a lot of meat. So Paleo is not for me, but I appreciate the premise. Stephen is super knowledgeable on the subject of nutrition in general and I was impressed by his recommendations on vitamins and supplements. My pharmacist brain never turns off.
Will I go back?
I would love to, but right now, the money and time is not there. Some weeks I can barely keep up with my running schedule! I do intend to incorporate some of the fundamental movements into strength training though. I love the competition aspect, along with the camaraderie. I honestly think it would be a great fit for my hubby, and I'd love to see him give it a try.
I'd also like to give a shout out to Stephen's girlfriend and sister who occupied about 9 little kids while us mommies got our CrossFit on. They were incredibly sweet to give up their time to help us out like that! Kristin did an amazing job organizing a fun night for us Moms.
------------------------------------------------------------------------------------

Who's going streaking with me???????
No, you weirdos, not that kind of streaking! This kind of streaking: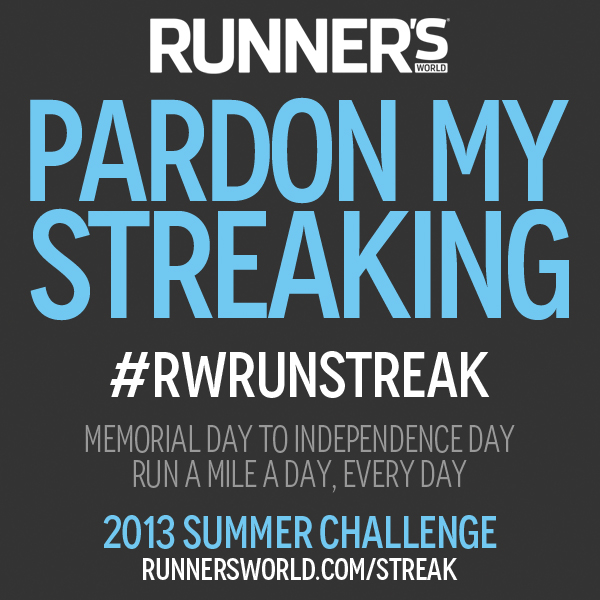 Starting tomorrow, run at least a mile every day until July 4th. I attempted this last summer and I made it about 2 weeks. I'm hoping to finish it this year! If you join in, make sure and use the hashtag on twitter or instagram so we can all find each other!
Have you ever tried CrossFit?
Are you going Streaking?