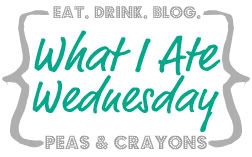 I skipped out on WIAW last week and I am so sorry that y'all didn't get to see all the cool things I ate, like:
and
I promise I won't do that to y'all again.
I started my day with a nice cup of coffee. I put some Silk creamer and Truvia in it. Good stuff.
Hello old friend. It's been a while since I've had my Chobani and Kashi mix. It was still as delicious as ever. The peach and cinnamon is such a good combination. Try it. You'll like it. Moms, do I sound like
this guy
?
Holy Mother of Salads. I'm seriously considering opening up a salad restaurant. I think I maybe create the best salads ever. This beauty consisted of kale, cucumbers, avocado, strawberries, blueberries, blackberries, raspberries and a ginger dressing. With a Wasa cracker on the side. This is my current favorite salad. Ever.
Hey there Iced coffee with soy milk and sugar free vanilla. How did you get there? And a dark chocolate Hershey's Kiss? Not sure how y'all found your way to my counter.
When you have nothing to fuel a run, choose your kids Tinkerbell snacks. They work in a pinch.
After my run I refreshed myself with a Green Machine from Naked. I love this juice. I know you juicers out there probably look down on the pre packaged juice, but when you're lazy like me, this stuff rocks.
In an effort to keep up with the laziness, we got O'Charley's to go. I got the potato soup with no bacon and a salad. Plus some spinach dip and their amazing rolls.
So to review, I made an awesome salad. That's all you need to remember about this post if you think I'm a running/fitness/health blog. Thank you.
And don't forget to visit
Peas and Crayons
to see what real food bloggers pictures look like! Gorgeous!