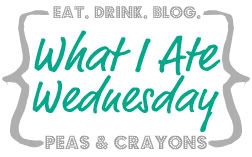 Before I get into the important stuff I have a favor to ask of you! Please either click that little "like" button on the right side of your screen for my facebook page, or go to MommiesRun and hit like. I have a super awesome giveaway but I need your help first! Mwah and thank you!
It's Wednesday and that means I'm linking up with
Peas and Crayons
for WIAW! It's your weekly look into what I'm eating, so enjoy!
This is a little Starbucks Caramel Macchiato. I split it with my homegirl Jaclyn so we could cut down on calories but still get a little caffeine boost. I was a little nervous because I knew it didn't have soy milk. That could spell disaster later on in the day, but down the hatch it went.
I come up with some weird combinations for my meals but this one was so delicious! I plopped some cottage cheese in the bottom of the super fancy paper bowl and then added some strawberries, blueberries, raspberries, and watermelon. Then I crumbled some Kashi shredded wheat type cinnamon cereal on top of that for some fiber and more protein. It was very filling and oh so yummy. It was a nice change from what I normally eat, ahem, Chobani.
For lunch I had quinoa with lentils and chopped broccoli. I had meal prepped a bunch of lentils and quinoa on Sunday and they made for a great lunch today. I felt like I needed some green so I topped it with broccoli and it mixed in well with the other flavors.
I snacked on an apple and nuts in the afternoon. I know y'all are super smart and probably know this, but please buy your nuts in the shell. You'll save so many calories by eating them this way! They taste just as delicious, you just have to do a little extra work to eat them. Then you see your shells sitting there as a reminder of how much you've eaten. Exception: almonds. Obvi.
When I got home from work I got #PoweredByBits before my Hill Repeats. The good people at Energy Bits would be glad I included this because they want you to know that Energy Bits are food! Not a supplement.
I have no affiliation with Energy Bits. I paid good money for those bits and I just want to spread the word about how amazing they are!
For dinner we grilled out. I prepared the food for the grill, and my grillmaster, Josh, cooked everything to perfection! He even had some super cute helpers.
Um yeah. Definitely the cutest helpers ever.
Josh grilled up some killer salmon and corn on the cob with a sweet potato on the side. I kind of threw the salmon together but here's basically what I did:
Drizzle the salmon with olive oil.
Squeeze fresh lemon juice over the filet and then slice the lemon to rest on it.
Sprinkle with basil, pepper, kosher salt, and garlic.
Grill.
Eat.
Smile.
I hope you had some great eats today! I know I did!