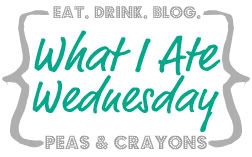 I'm back with a new WIAW, linking up as always with the precious
Peas and Crayons
! This week will be a little bit different as I'll be showing y'all my delicious eats from a couple weeks ago in Atlanta. Josh and I went there for a couple days to see our favorite band,
Phish
. It was a great trip with great music and great food!
We ate lunch at
Panera
which is somewhere that we frequent at home. It's one of my favorite places and yet I was still able to try something new! I got the You Pick Two combo with a Bacon Turkey Bravo sandwich and a Spinach Power salad. I'd never had that salad before and it was delicious! If you've ever read my WIAW posts before, you know I love spinach salads. This one had roasted mushrooms, hard boiled eggs and bacon on it. Plus the onion vinegarette was the perfect dressing. I've had the sandwich before but the tomato basil bread is always so good.
Another new thing I discovered about Panera...they have serve yourself iced coffee. Like I can refill my cup as much as I want. My kind of heaven.
Later on that night we headed to a quaint area by our hotel in Norcross. It really reminded me of our
town square
here in Collierville but with more interesting restaurants. We ended up choosing a Cuban restaurant called
Mojito's
. Obviously with a name like that, we had to start out with Mojitos!
I'd never had a mojito before but this drink was delicious. It was so fresh tasting! We decided on an appetizer called Loaded Mariquitas. Basically they were like Cuban nachos. Instead of chips, they used deep fried, thinly sliced plantains. They were topped with lettuce, tomatoes, black beans, cheese, sour cream, and deliciously seasoned chicken. All I can say is OMG.
After the appetizer I luckily still had room for my dinner which was Ropa Vieja with a side of avocado salad. I'm sure y'all have noticed on here that I love black beans. Well, I found my restaurant heaven in Norcross. Black beans with rice, fried plantains, and shredded beef seasoned to perfection. I could have died.
The avocado salad was like a super chunky guacamole. It was so fresh tasting. Unfortunately I only ate a few bites so as to chow down on my ropa vieja. I wish I could have more.
Clearly we had to have dessert. We decided unanimously that the Mango Pie had to be eaten. They described it as being like key lime pie but with mango. We have a winner. It was perfection. It had just the right amount of sweetness without being overly sweet.
Our server talked us into some coffee to go with the pie. I got a Cafe con Leche and Josh got a Cuban Coffee. The taste of the coffee was bold and rich and I loved it. I also loved how cute Josh's little cup was. He also looked pretty cute drinking it :)
Needless to say, we were absolutely stuffed. I've seriously never enjoyed a meal as much as I enjoyed this meal. Everything was absolutely perfect. I would go back to Atlanta JUST to eat at Mojito's. Dead serious. I can't recommend this restaurant enough.
Disclaimer: I was in NO way compensated by either Panera or Mojito's for this post. Neither of these restaurants have any affiliation with me or MommiesRun.com.
What is your favorite genre of food?
I can't even begin to answer this question. Maybe Mexican? Oh wait, I love Japanese too. But this Cuban was pretty amazing. I can't forget Italian too. And Greek. Screw it, I just love food.