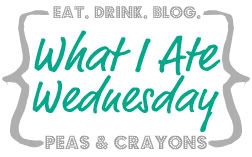 Howdy!
WIAW
is back and it's a special Anniversary Edition. Who's anniversary? Me and the hubs:
We celebrated 8 years of holy matrimony on August 9th. We've been through a lot together including 2 apartments, 2 houses, 3 dogs, pharmacy school, and TWINS. I'd like to think that if we can survive all of that, we can survive anything. He's my best friend and I'm so lucky he's mine. I love you, Josh!
We went out to dinner to one of our new favorites here in town,
Hog And Hominy
. It's a locally owned restaurant (you know I love that), and it's award winning (
GQ's 12 Best Restaurants of 2013
). Oh, and it's freaking delicious. It's considered an Italian restaurant with Southern roots. I just consider it amazing.
We started out with some drinks obvi. I got this delicious beer. The blueberry notes were perfect. It wasn't too heavy, which was good because I was about to be eating a ton of food.
The menu consists of several "plates" and pizzas. The "plates" are sized to where you could eat them as a meal for one, or you could share. Our server the first time we went suggested splitting a couple plates and a pizza. For our anniversary, we did it up and got a bunch of plates and a pizza each.
We started with Poutine which is my favorite thing there. It's fries, neckbone gravy, chili oil, pulled pork, and cheese curds. Sounds disgusting. Tastes amazing. I can't make this up people.
The next plate we got was Shishito Peppers. They were topped with almonds, cheese, and shredded beef jerkey. The interesting thing about these peppers is that one in ten of them are super hot. And there's no way of telling which one is hot. We somehow ended up with about 4 hot ones! They had such great flavor and I kind of forgot to take a picture until I had devoured like half the plate. Oops.
Next came another one of my favorites, the beef and cheddar dog on a pretzel bun. This is not your normal hot dog, friends. It is fresh and tastes real. And the bun is TDF. The end.
I decided to try the 'Shrooms pizza. It has mushrooms, arugula, garlic, smoked mozzarella, and cream sauce. Honestly, it was the smoked mozzarella that drew me to it. The pizza was delicious, but honestly, at that point I was pretty full. I think next time I might skip pizza and get a couple more plates!
Josh got The Prewitt pizza which had fontina, boudin, scrambled eggs, and tomato sauce. Yes, scrambled eggs. I didn't try it, but Josh really enjoyed it and ate all of his leftovers!
I love this place. Hog and Hominy is so different from any other restaurant I've been to. I honestly did not expect to love it as much as I do. I can't recommend this place enough. If you ever come visit me, which you totally should, I'm taking you here. Just remember to bring your iPhone so we can Google the ingredients that sound foreign.
This review was in no way sponsored by Hog and Hominy. These were all my opinions and we were not compensated by Hog and Hominy.