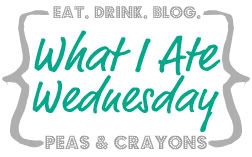 Yeah, you read that right.
Chicklin Dumplins.
That's what Lexi took to calling Chicken and Dumplins tonight. Also known as
Magic Carpet Rides.
You see, my girls are slightly obsessed with Disney Princesses, so a lot of foods become princess-y so that they'll eat them.
Noodles = Rapunzel Hair
Spaghetti with Sauce = Ariel Hair
Dumplins = Magic Carpet Rides
Don't judge until you have kids. Anyway, for What I Ate Wednesday, I want to share a super easy recipe to make delicious Chicken and Dumplins. Normally, anything that requires making dough scares me (except cookie dough), so that should let you know how easy this recipe is to make. Let's do this!
Here's your grocery list (also baking powder, milk, salt, and pepper)
Grab a bowl and pour in 2 cups of flour and 1/2 teaspoonful baking powder with a pinch of salt. Stir those dry ingredients together.
Cut in 2 tablespoonsful butter using a fork or whatever fancy device you might have.
Pour in 1 cup milk and mix until a dough forms.
Heavily flour your surface (counter for me).
Roll out your IT band (it works!) then flour your rolling pin.
Roll out your dough. How thick you like your dumplins is up to you. We like our dumplins thin around here so I roll them out thin!
Take a pizza cutter and cut the dough into squares that are about 1 inch by 1 inch.
Coat a plate with flour and then place the dumplins on the plate, covering each layer with flour.
Bring 2 quarts chicken broth to a boil, and add some salt and pepper.
Add the dumplins one by one into the broth, stirring constantly.
Cook the dumplins over medium high heat for 15-20 minutes.
Remove all the chicken off the bones and place aside.
Once the dumplins are cooked and no longer doughy, add the chicken and stir.
Enjoy!
If you have the time, you could easily boil chicken and make your own broth. If you're usually in a rush like me, rotisserie chickens are amazing time savers. Also, I normally like to "eyeball" my measurements, but make sure and actually measure out your ingredients for the dough!
Thanks to Jenn at
for hosting!
Recipe adapted from
.